In my recent exploration of living more sustainably i have come across something called the "small house movement". People who downsize to homes that seem ridiculously small and inconvenient at first, but after really thinking about what we NEED to survive, and be happy, is it

really

all that ridiculous? I think not. Bigger isn't better, Less is more.


These tiny houses that go as small as 80 sq. ft. come equipped with kitchens, bathrooms, closets, a couch and a loft bed! Who needs more than that to survive? I don't, and after considering how much it would minimize a persons footprint, structural, as well as carbon, It seems like a great idea. Then add in the rising energy cost, and the mortgage crisis, and it just keeps sounding better and better. These homes cost less to purchase, maintain, and heat! One woman who built herself a 89 sq ft home in a friends backyard said that with rising enegery costs, her bill was a little more expensive lately. It has gone from $4 to $8 a month. How great does that sound?

Below are some Interesting ways that people have of living small, but still living comfortably and in style.

Jay Shafer has been living in houses smaller than some people's closets since 1997. He now owns a company called Tumbleweed Tiny Houses.
Jay's tiny house tour:




For more on Tumbleweed Tiny Houses, Jay, and Living in tiny houses visit
http://www.tumbleweedhouses.com/

Builder Brad

Kittel

makes these Texas "Tiny Houses" from 95% recycled materials. The only new elements of the home are electric systems, plumbing, and insulation. Unlike modern prefab mini-homes, each one is unique and reflects the style of its salvaged parts.



Based in Gonzales, Texas,

Kittel's

company specializes in scrap materials. The homes are built on pier-and-beam foundations, and they're portable. Porches are bolted on for fairly easy

disassembly

. Buyers can choose the components of their homes from

Kittel's

inventory of second-hand doors, windows, paneling, and trim. Prices range from $42,000 to $155,000 depending on size. To see the entire article click here


Photos: Sarah Wilson for This Old House
For a more modern, but more expensive way of living small: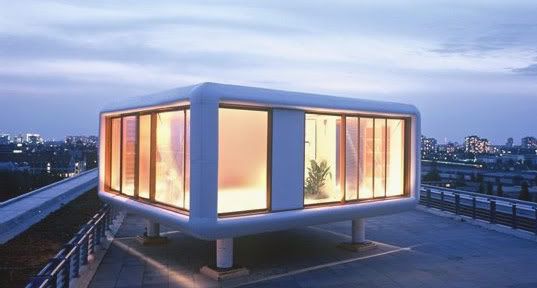 The Loftcube takes advantage of unused space on high-rise rooftops: either the landlord can keep it there and rent it, or you can take it with you when you go. The pod-like exterior can be finished the way you want in combinations of glass and wood blinds, and the 36 square meter interior is customizable, too. Modular wall panels...
...separate the kitchen and bathroom, with the same tap used for both sinks (a bit like the swivel screen in the Sustainable Condo) to cut down on plumbing materials. The shower head can also water the plants, which is, if not terribly useful, sure to provide endless party entertainment.
While we love the idea of prefab housing that doesn't leave a footprint on undeveloped land, the Loftcube is heavy on wood and plastics, with no indication that they're sustainably forested or produced.
And Last but definitely not least:
Shipping Container Homes by PFNC Global Communities
Appalled, but also inspired by the poor living conditions of families in Juarez, Mexico, Brian McCarthy has begun a housing project worth paying attention to.


PFNC's container homes are 320 square feet on average, and they company aims to keep them around $8,000 each, to remain affordable for the average worker in manufacturing plants along the U.S. border.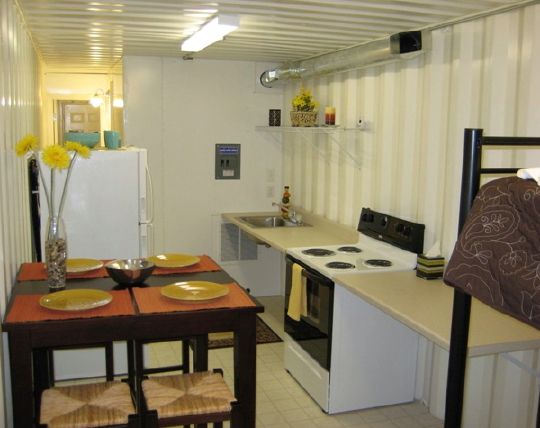 For more Tiny Houses click below:
NY Times tiny homes
tinyhouseblog.com/
The small house Society
weehouse.com
greenaerie.blogspot.com/
tortoiseshellhome.com/
thecabinhouse.blogspot.com/
http://www.coyotecottage.com/index.htm
turnbulltinyhouse.blogspot.com/
blueskymod.com
sustain.ca/